At GIOSTAR, we know you want to look and feel your best. Our team of surgeons and medical professionals are trained in the latest aesthetic techniques, designed to rejuvenate your mind, body, and soul. In these challenging times, it's more important than ever to take care of your appearance. Come experience the GIOSTAR difference today!
About GIOSTAR Institute of Health & Aesthetics GIOSTAR is the leader in developing the most advanced aesthetic procedures, supported by prominent scientists and physicians trained at leading universities in the United States and abroad.
As a leader in the field of healthcare, GIOSTAR's vision is to develop and provide safe, effective, affordable, researched-based therapies.
7 Global Partner Locations
Our Success is in the Science!
Turn Back the Clock with GIOSTAR Bio-Active Molecules
Our innovative team of scientists has developed a groundbreaking cosmetic product – Bio-Active Molecules (BAMs). It has been highly effective in a broad line of hair and skin care products. In rigorous performance and clinical tests, the BAM-based skin care serum proved 30% more effective than 5 other products on the market.
Drop us a line ([email protected]) to learn more about GIOSTAR's BAMs!
The Science Behind Anti-Aging
Proper lifestyle, nutrition, exercise, and supplementation are critical for anti-aging in general, and specifically for anti-aging of the skin.

Supplementation for healthy skin should include ingestion of micronutrients and omega-3 fatty acids for example, but should also include the topical application of nutrients that are both
Evidence of aging skin appears in the facial and periorbital area and includes:
GIOSTAR Aesthetics' team of pioneers in regenerative medicine have formulated research-backed products that nourish your skin cells and help turn back the biological clock. Our clients are seeing very positive results in just a handful of sessions. If you're wanting to bring out the youngest, happiest, most attractive version of yourself – we urge you to schedule your consultation today.
GIOSTAR's Approach to Anti-Aging
GIOSTAR's study investigated a novel facial serum derived from adult stem cells that contained a proprietary mixture of human growth factors, antioxidants, and cytokines for facial skin rejuvenation, including periorbital rejuvenation.
This is characterized by loss of subcutaneous fat with thinning of the skin over the orbital rim ligaments combined with cheek descent. Orbital fat prolapse is recognized by the characteristic shape of the orbital fat compartments (1).
Dark Circles Under the Eyelid
This is another cosmetic concern for many individuals, and is caused primarily by a combination of melanocytosis or post-inflammatory hyperpigmentation.
This is a critical feature of facial and eyelid aging, leading to facial wrinkles including "Crow's feet," color and texture changes, and festoon formation. Eyelid fluid accumulation occurs with systemic edema or local edema such as that caused by facial allergy.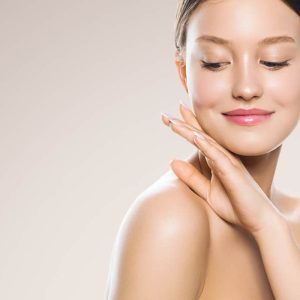 Dark Circles Under the Eyelid
This is another cosmetic concern for many individuals, and is caused primarily by a combination of melanocytosis or post-inflammatory hyperpigmentation.
Thinning of Infraorbital Skin and Excessive Vascularity
This makes the subcutaneous blood vessels more visible, and is believed to be the second common primary cause of dark circles (2). Previous studies indicate that topical application of growth factors is able to diminish the effects associated with aging skin.
The mixture of factors is obtained through a proprietary biotechnology process using combinations of cultured adult stem cells. Most companies incorporate plant stem cells into their product lines. Facial skin – particularly eyelid skin – is the thinnest in the body, of a fragile nature, and extremely important for proper visual functioning. For these reasons, this area of the body is particularly difficult to treat.
GIOSTAR's Position in the Skincare Industry
GIOSTAR continues to innovate and develop groundbreaking therapies for numerous disorders – including those impacting the skin.
We developed an optimal formula of Bio-Active Molecules (BAM), that have proven effective in extensive research studies involving severe conditions such as psoriasis.
Adult stem cells and progenitor cells (including fibroblasts) are present in the skin, and are characterized by the following
function much like "mobile factories" that produce peptides, proteins, growth factors, and other signaling molecules.
produce, and then release, these molecules into all layers of the skin to nourish all of the skin cells; this enables other skin cells to
function as normal, healthy cells
act to modulate immune response, inflammation and pain.
The combination of factors released from the stem cells is called Bio-Active Molecules (BAM); when released from two or more different types of stem cells, is called BAM.
To capture the factors released from adult human stem cells for formulation into a topical product, cells from multiple tissue types are grown in the laboratory. Using very expensive selection technology, the progenitor cells are specifically separated from the other cells.
The separated stem cells are then grown as a separate colony in the laboratory under special conditions, including genetic selection procedures, and stimulated to produce and release their natural complement of peptides, proteins, anti-oxidants, microRNA, and growth factors. At this point, using state-of-the-art separation and collection technologies, the peptides, proteins, and growth factors are collected and then added to a formulation that allows the factors to be bottled and applied to the skin.
Stem Cell Science Behind GIOSTAR Skin Care Products
Stem cells have proven very effective in combating the age-related decline in physiological functions. This encompasses skin-related disorders, which are rooted primarily in inherent inflammatory processes.
Stem cells secrete numerous growth factors, anti-inflammatory cytokines and numerous other agents (i.e., collagens) and factors improving vascularization to skin and healing of inflammation-injured cells. Also well documented: the regenerating capacity of stem cells.
Application of these products results in reduced inflammation, while healing of dermal and epidermal cells helps maintain/restore the healthy glitter of the skin.
Leveraging these properties of stem cells, GIOSTAR developed an optimal formula of Bio-Active Molecules (BAM). These molecules are for topical use, to heal and rejuvenate damaged and degenerating skin with maximum efficacy. It's worth noting that the products contain NO CELLS, but only specific molecules released by stem cells.
What Does Hollywood Producer Anna Strong Have To Say?
100% reported to have tolerated the skin serum well (no allergic responses)
100% confirmed continuation of regular use after the 6-week study.
On a scale of 1-10, average clinical assessment of results was 7.5
Over 2000 adults purchased the serum and were offered a 100% money back guarantee; there was a .05% return rate and a .05% c omplain rate
The serum's efficacy, excellent tolerability, including the delicate periorbital skin area, explain why close to 100% would continue regular use.
Phase IV post market and in vitro studies also demonstrate the safety and efficacy of the product.
GIOSTAR's studies demonstrated that a facial serum (Facial Serum) containing a proprietary mixture of Bio-Active Molecules (BAM) is safe and efficacious for facial skin rejuvenation in cases of mild to moderate skin aging.
The serum's efficacy, excellent tolerability, including the delicate periorbital skin area, and ease of use and pleasant sensory properties of the product explain why 100% would continue regular use of Vital Serum.

Human, phase IV post market, and in vitro studies also demonstrate the safety and efficacy of the product.
Blepharoplasty is a surgical procedure wherein a doctor lifts and tightens the upper and lower eyelids. Commonly known as an "eyelid lift," the surgery is considered to be of particular benefit to patients with "hooding" eyelids (a side effect that is common with age). Eyelid lifts can now be performed under local anesthetic in-office. The recovery is easy, and the downtime is minimal.
Sagging skin around the jawline; loss of volume in the temple and cheek area; small fat deposits under the eyes. These are perhaps the most common telltale signs of aging. As with most issues related to aging, it is imperative to take care of these symptoms before they become more problematic. In this vein, many patients are taking a proactive approach in choosing to undergo a mini-rhytidectomy (commonly known as a "mini-facelift").
LASE: Lower Abdominal Skin Excision
Loose skin around the abdomen area can develop when people lose weight, have children, or have surgical procedures below the belly button. The skin is loose and looks wrinkled due to lack of laxity. Patients looking to eliminate it can now take advantage of GIOSTAR Chicago's new in-office option for Lower Abdominal Skin Excision (LASE) – medically known as panniculectomy surgery. The procedure involves minimal downtime, faster recovery and greater safety than a traditional abdominoplasty.
Microneedling is a minimally invasive treatment that involves using a dermaroller (a skin needling device between 0.13 and 3mm in length) to create microchannels in the skin. In doing so, the process allows growth factors or serum boosters to permeate into the skin tissue. Microneedling is approved by the US Food and Drug Administration (FDA) to improve the appearance of facial acne scars, facial wrinkles, and abdominal scars.
Among the many challenges we face as we age, slowing metabolism and joint pain are perhaps the hardest to deal with. This gives rise to a sedentary lifestyle, and a vicious cycle of decreased physical activity and increased weight. Typically, a patient would have to address these issues with two separate specialists. That would mean more costs, and more downtime. Enter LipoRe: an innovation pioneered by GIOSTAR Chicago, that harnesses the power of awake liposuction and the regenerative capabilities of stem cells in one procedure.
In recent years, pop culture has been raving about the benefits of the PRP facial. So, what is it exactly, and why does it represent a revolution for anti-aging? PRP facials aim to rebuild and replace weakened skin cells, giving you a more youthful, radiant appearance. This treatment is good for all skin types and helps to aid in the following ways:

• Promotes anti-aging
• Increases collagen production
• Addresses acne scarring
• Reduces pore size
• Improves overall skin texture and elasticity
Request Your Appointment Now!
Looking to schedule an appointment, or have general questions for our Patient Outreach team?
We look forward to speaking with you!